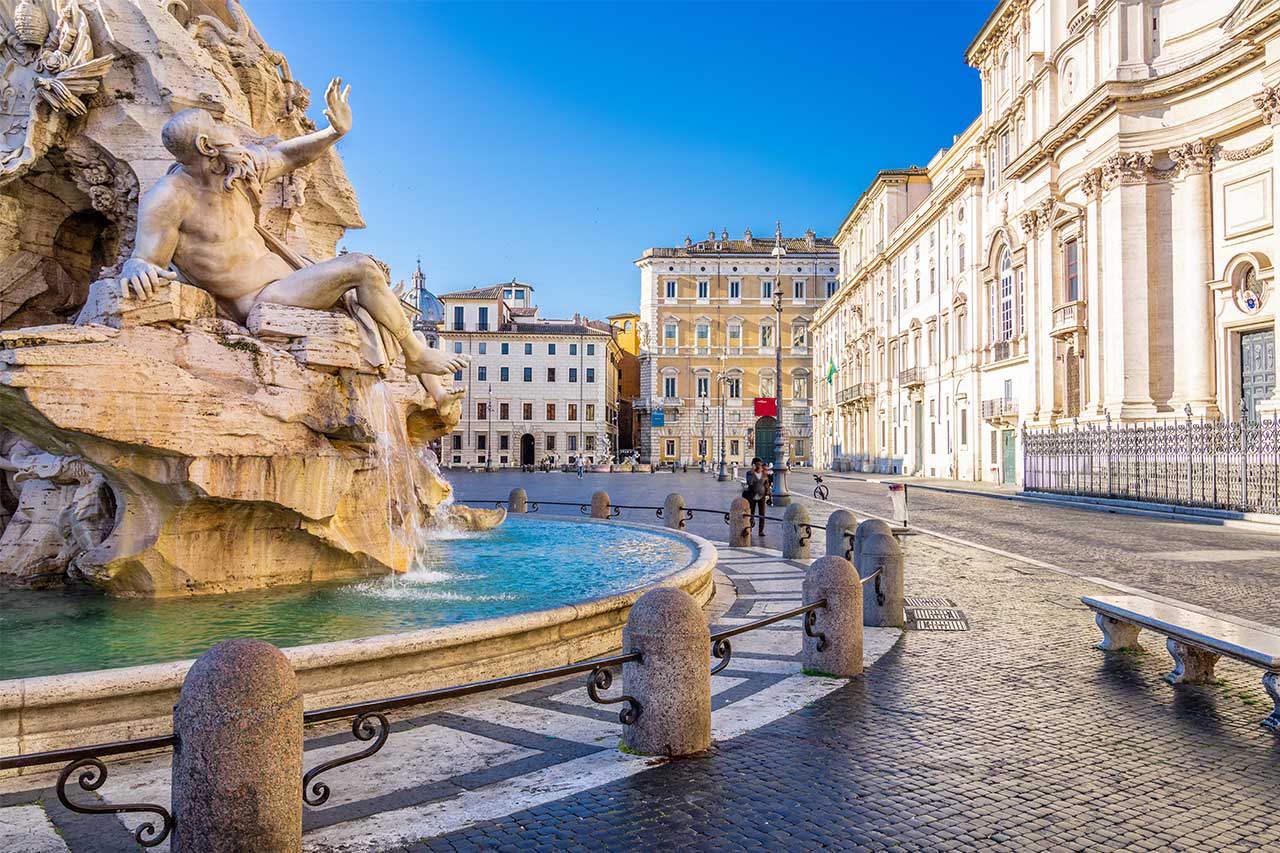 Tour Description
With the Counter Reformation, the Roman Catholic church started the largest propaganda project ever seen, created to fight heresy and remind everyone of the supremacy of Catholicism. Every church or square was refurbished and beautified. Thousands of statues started populating the chapels to announce the glory of God and bring the people back to the Catholic faith. At the service of the popes, the artists turned the city into a splendid stage, a Rome made of marble and water.
On a private walking tour of the Baroque Rome, with your own guide, you will visit some of the gems of our city. Once a stadium for the athletic games, today Piazza Navona is called the "sitting room" of Rome. Here people can sit at one of the cafes and sip wine while looking at the eternal beauty of the church of St. Agnes, built by Borromini, and of the fountain of the Four Rivers, masterpiece by Bernini, where the ancient obelisk placed on top of a cliff of travertine, seems to defy the laws of gravity. The church of St. Louis of the French, merely a couple of blocks away, houses three magnificent paintings by Caravaggio, the first modern painter. The artist was tormented by the research of the divine in the human passions. His saints and Madonnas were modelled after poor people and the use of the tragic light makes them seem eerily alive.
On the way there you cannot miss the Pantheon, masterpiece of the Roman engineering and architecture. Built as a pagan temple for all the Gods, today serves as a catholic church and has the widest dome in cement ever built. With your guide you will stop at the Jesuit church of St. Ignatius of Loyola, famous for its ceiling painted with the perspective of the illusion by father Andrea Pozzo. The glory of St. Ignatius at the presence of God looks like it's going up straight to heaven. Even the dome it's painted… At only five minutes of walking distance, you'll find the  most famous fountain in the world: the Trevi fountain. Here, in the hope of coming back to Rome again, the tourists throw their coins at the feet of the statue of Neptune on his oyster shell. For shopping, you cannot miss the Spanish steps. The beautiful staircase in Rococo' style links the church of Trinità dei Monti with the square below where the most important fashion brands show their newest creations on shining windows.
Contact us and together we will organize the vacation of your dreams.
Points of Interests:
Piazza Navona

Church of St. Agnes

Church of St. Louis of the French

Jesuit Church of St. Ignatius of Loyola

Spanish Steps